Harrisburg PA's Favorite Deck Railings Contractor: Elite Outdoor Expressions
There's no question. Homeowners throughout the Harrisburg region choose us for our depth of experience installing railing systems of several types (including aluminum porch railings). They appreciate our incredible selection of beautiful deck railings in a range of styles, which sets us apart from the competition.
Want to upgrade your porch or deck railings and get to know why your neighbors trust us to liven up their outdoor entertaining spaces? We invite you to get in touch with us to plan your project and discover the Elite Outdoor Expressions difference.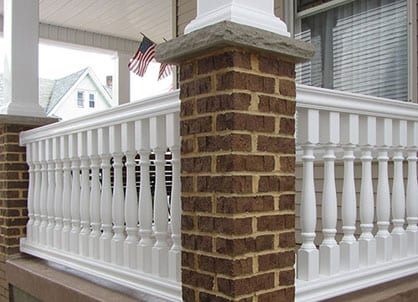 Vinyl Vs. Wood and Other Materials for Railings—Is It Really an Upgrade?
In one word—YES! And the most significant advantage vinyl has over wood is that it's a maintenance-free material. Vinyl railings are also big on style, so you never have to sacrifice beauty and elegance to gain function.
Vinyl railings are a great alternative to wood railings since they don't require staining or painting every few years. Additionally, unlike wrought iron railings, vinyl railings won't rust. But that's not nearly all.
5 Big Advantages of Vinyl Railings Vs. Wood
Vinyl railings are UV-stable and won't fade or become discolored over time.
Hate splinters? Vinyl is smooth to the touch and won't crack or splinter like wood.
Vinyl railings are easy to clean with a pressure washer—without the worry of damage.
Like to grill on or near your deck? Vinyl is fire resistant and safer than wood.
Premium, commercial-grade vinyl like we use in our railings is physically stronger than wood.
Get the Inspiration You Need For Your Deck or Porch Railings Project
At Elite Outdoor Expressions, we believe that describing our vinyl deck railing systems is one thing—but seeing the finished product installed tells a much more complete story about how our beautiful railings look next to the perfect deck. You won't want to miss our photo gallery of past deck railing projects and so much more!

Stop In and See Us in the Harrisburg Area!
Our convenient West Shore location in Lemoyne is Harrisburg's headquarters for outdoor living home improvements—and it's an easy drive from anywhere in the Capital Region! Visit us to see our premium poly outdoor furniture in person or to chat with our friendly team about your vinyl decking, railings, or screened porch project goals!