Central PA's Favorite Source for Poly Outdoor Tables: Elite Outdoor Expressions
Have a picnic table or outdoor dining set made from wood, plastic, or metal that has seen better days? Unfortunately, these common patio furniture materials just don't hold up over the years. Wood rots. Plastic fades in the hot sun and cracks. Metal rusts and corrodes. And then you have to replace these pieces yet again.
At Elite Outdoor Expressions, we have a better outdoor furniture material for your next picnic table—and other outdoor furniture, too—poly.
Poly outdoor furniture offers the look of wood, the durability of metal, and the color options of traditional plastic—but is genuinely maintenance-free. In fact, many of our Elite Outdoor Expressions customers find that it truly represents an upgrade in backyard furniture!
Ready to discover the poly outdoor furniture difference? We invite you to check out some of our selections here, and let us know if you have any questions!
Browse Our Favorite Poly Outdoor Table Collections
Our poly outdoor tables are available in several unique style collections to choose from—and we know you'll be inspired when you see all your options in our Photo Gallery! Discover more from our favorite collections—and don't forget to pair them with our stylish poly outdoor chairs.
Classic Terrace Collection
The unique table options in our Classic Terrace Collection bring indoor comfort to the great outdoors.
Dining Collection
No outdoor kitchen or deck is complete without the perfect dining table and chairs. Discover more.
Choose From a Rainbow of Color Options You'll Love
All of our poly outdoor furniture at Elite Outdoor Expressions can be fully customized in an array of rich and beautiful colors that won't fade over time. Take a look at the options here, or stop in and visit us in New Holland and Lemoyne, PA, to shop in person!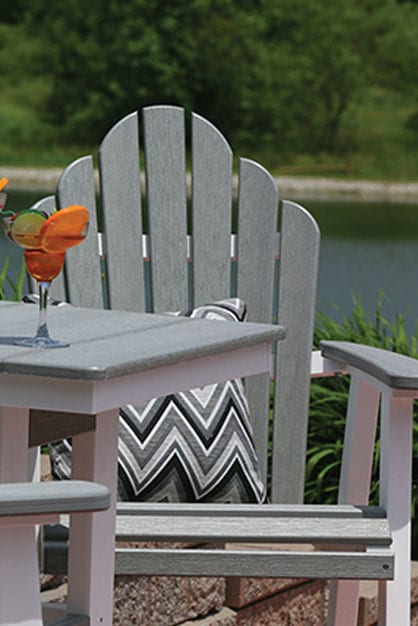 Why Choose Poly Over Other Outdoor Furniture Materials?
In the past, outdoor furniture—like picnic tables and patio dining sets—has been made of either wood, metal, or plastic. However, thanks to the rise of recycled plastic as a construction material, poly furniture has become a popular option. All these materials can make great outdoor furniture, of course, but poly materials have many advantages—including being more durable over the long haul.
So, why invest in "poly" (aka high-density polyethylene formed into lumber) when other options may have a lower upfront cost? In short, it's high on durability and good looks without any of the negatives. Like plastic materials, poly lumber comes in various bright and warm color palettes to go with any outdoor décor. Yet, poly is waterproof, bug-proof, and fade-resistant—this furniture is made to last and look new for years! Additionally, it is the lowest maintenance of all the outdoor furniture materials because it also resists mildew.
Get the full story on how poly stacks up to other materials over on our Elite Outdoor Expressions blog!

Stop In and See Us
Our two convenient Central PA locations—in New Holland and Lemoyne—are your headquarters for outdoor living home improvements. Visit us to see all of our premium poly outdoor furniture in person or to chat with our friendly team about your vinyl decking, railings, or screened porch project goals!