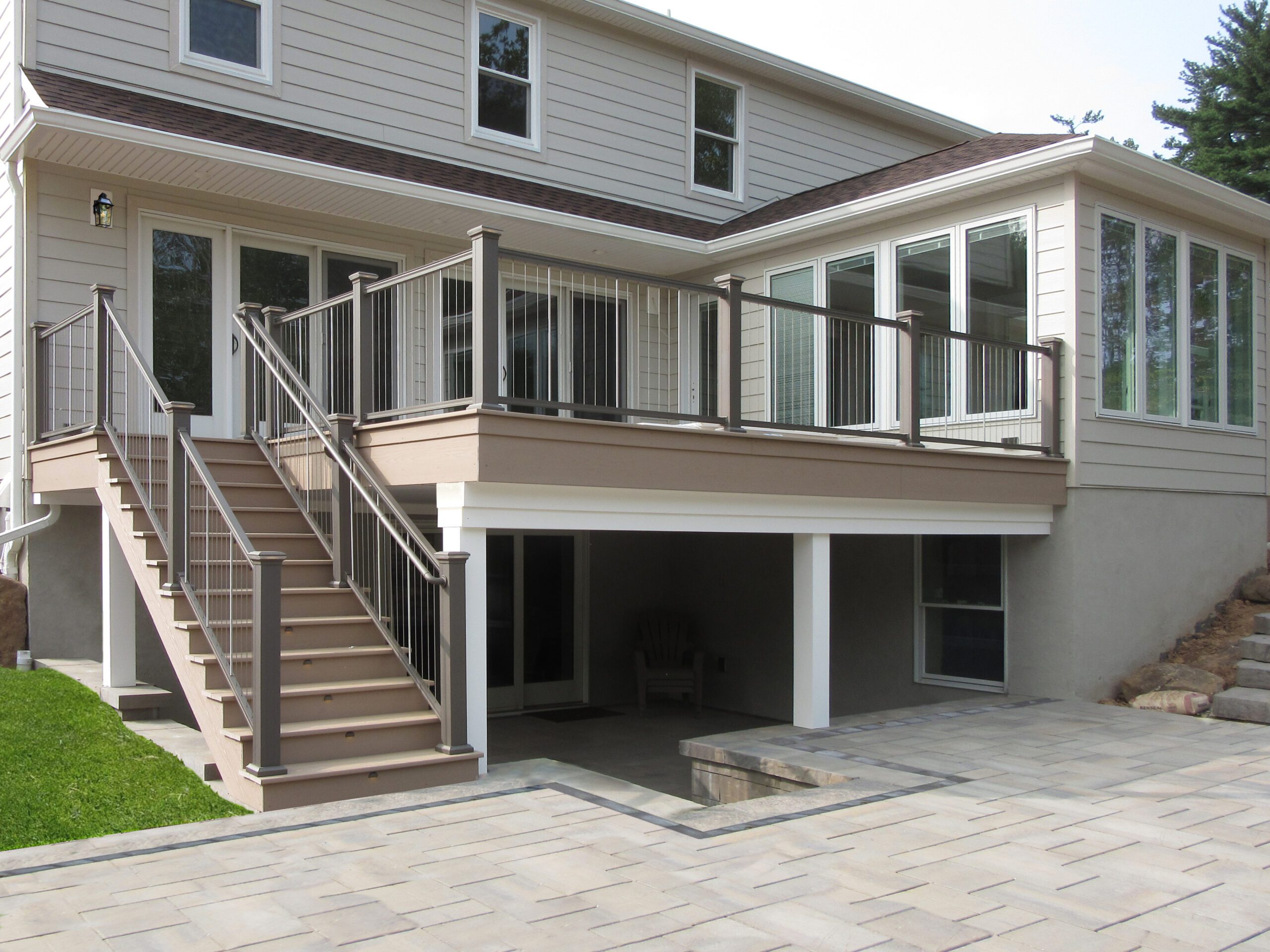 Aluminum Railings in Harrisburg & Lancaster, PA
When it's time to replace your worn or outdated railings, aluminum railings are an attractive choice to enhance your outdoor space.
If you're looking for the elegance of traditional wrought iron railings without rust or maintenance, trust Elite Outdoor Expressions with your aluminum railing installation project.
Our railing system adds a genuinely versatile, unique detail to your deck or porch that will make your neighbors jealous.
Our aluminum railing systems are a great alternative to traditional wrought iron railings, adding stunning beauty to any outdoor setting.
American Series Railing: A Beautiful Choice with Little Maintenance
If your deck or porch is in dire need of new railing, look no further than the American Series Railing Systems from Elite Outdoor Expressions! With a flat-top rail made from high-quality and lightweight aluminum, the American Series is a beautiful addition to your outdoor space.
You'll no longer have to worry about broken or missing wooden pickets that your pets or children could fall through! Instead, enjoy peaceful, relaxing days and nights in your outdoor living spaces with sturdy and safe aluminum railing.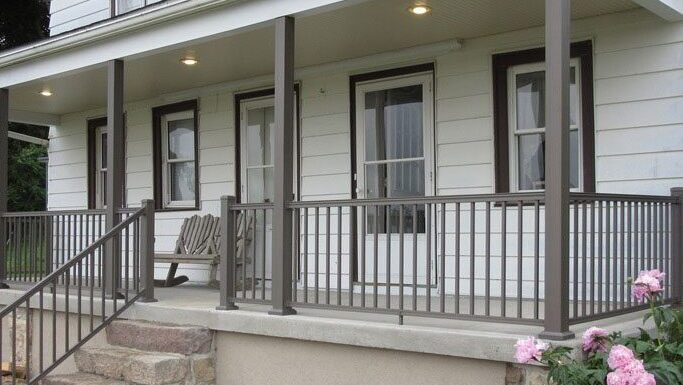 Features of the American Railing System
The American Series Railing System is an attractive choice in railing options. It has a weather-resistant, powder-coated finish, making it a low-maintenance railing system. Full-length PVC inserts in both the top and bottom rails create a tighter, quieter fit. Additional features of the American Series Railing System include:
1¾ x 1⅞-inch flat top rail
Level railing lengths come in six-foot or eight-foot sections
Step or stair railing comes in six-foot or eight-foot sections
Available in 36-inch or 42-inch height
All aluminum balusters are ¾-inch
Manufactured in the USA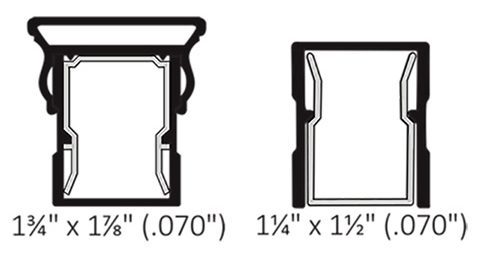 The top rail profile is shown above on the left, while the bottom rail is on the right. Drains are in the bottom rail to allow moisture to escape. Want to know more about this beautiful railing style? Contact us today!
For more details, download our American Series Catalog (PDF). 
Available Colors
Simple, classic colors are the way to go if you want to transform your deck or porch from dull and outdated to modern and sophisticated. The American Series is available in three stock colors: textured black, textured bronze, and textured white. If you want something a little different, there are special-order colors available, too.
---
Railing Styles
One of the great benefits of choosing the American Series for your outdoor space is that there are 3 different railing styles to customize your space's look and feel. You can even mix and match the railings to create a one-of-a-kind look for your home! The 3 styles are
Square
Vertical Stainless-steel Cable
Horizontal Stainless-steel Cable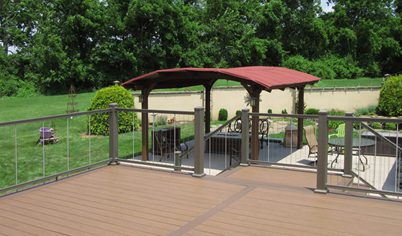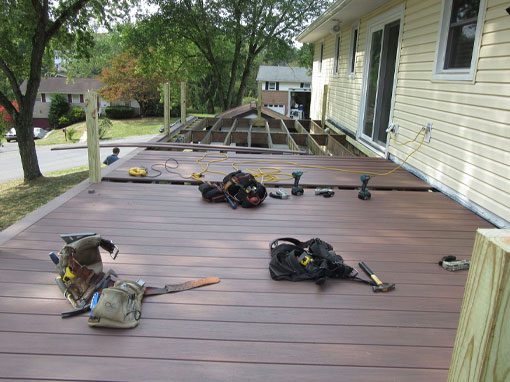 Get Expert Advice for Your Deck Railings
Not sure which deck railing style is best? Visit our showroom in New Holland, PA, to see our railing designs in person and get advice from our experts! We can help you choose from our variety of styles, railing options, and railing materials to best suit your style and outdoor decor.
We know that your outdoor project is essential to you. You want beautiful railings that look like wrought iron but without the cost and maintenance. Aluminum railings from Elite Vinyl Railings are the answer.
With us, you'll get top-quality service, attention to detail, and the trusted experience that you simply can't get from big box stores or online railing kits. Aluminum railings provide the look you want, plus much more. Contact us for an accurate price quote for your railing project.
Advantages and Benefits of Aluminum Railings
When you choose aluminum railings for your deck or porch, you'll enjoy the following benefits:
No rust
Finished with a weather-resistant textured powdered coating
Available in multiple colors and styles
Lifetime warranty
More affordable than standard wrought iron
Low maintenance
Expert Installation Available with Elite Outdoor Expressions
With over 15 years of experience, our installation crew is the best in the business. We've completed thousands of railing projects, all with an attention to detail unmatched in the industry! From the top rail to the bottom rail, Elite Outdoor Expressions will ensure your new aluminum railing system will exceed your expectations from the moment you contact us to the completion of your finished project.
We strive to improve our customer's space to make them want to enjoy more time outdoors. Stop feeling embarrassed about the appearance of your outdated railings and install beautiful aluminum railings that will make the whole neighborhood jealous! Want to find out more?