Adding a deck to your home or revitalizing an existing one can be an exciting process. You have many decisions to make from choosing materials, colors, size, and a construction partner. One choice on which you need to decide is the type of railing feature you add to your deck project. Not only do these provide safety and protection for your loved ones and belongings, but they can also be a beautiful addition to your porch or deck.
Aluminum and vinyl deck railings are two options that are affordable, durable, and easy to install for the professional craftsman here at Elite Outdoor Expressions. For over 27 years, we have helped homeowners like you transform their homes with high-quality decks, railings, furniture, stunning pergolas, and screened-in porches. You can count on our professional installation crew to have a fantastic experience that adds curb appeal to your home.
Check out our answers to seven of the frequently asked questions about deck railings, and if you have more questions or need a quote, feel free to contact us!
1. Can You Put Vinyl Railing on a Wood Deck?
Yes, you can put a vinyl railing on a wood deck. In fact, vinyl deck railing systems are a better choice than wood railings because of their strength, durability, and low-maintenance needs.
Since vinyl doesn't require staining or painting, you won't have to spend the time or money every few years to spruce up your railing. It also won't fade in the sun and is easy to clean with a standard pressure washer. Vinyl railings are safer for your family since they won't splinter, are stronger than wood, and are fire-resistant.
Plus, we offer our vinyl railings in three different neutral colors—white and almond—so you're sure to find one that matches your wood deck. You can also put aluminum railings on wooden decks, as they mimic the look of wrought iron without all the cost and maintenance. They also come in various colors to get the exact look you want.
2. What is the Most Affordable Deck Railing?
Wood is the most affordable deck railing in terms of the initial cost. However, ongoing maintenance needs from repairing broken top and bottom rails, endless painting or staining needs, and cleaning costs make it one of the most expensive deck railing materials over its lifetime.
Vinyl deck railings are similar in initial costs to wood. Still, since it's virtually maintenance-free, it will be nearly the only expense associated with vinyl deck railings in its lifetime. Aluminum railings are also an affordable option with little ongoing maintenance needs. Since it won't rust like wrought iron, you won't have to worry about finding ways to remove the corrosion.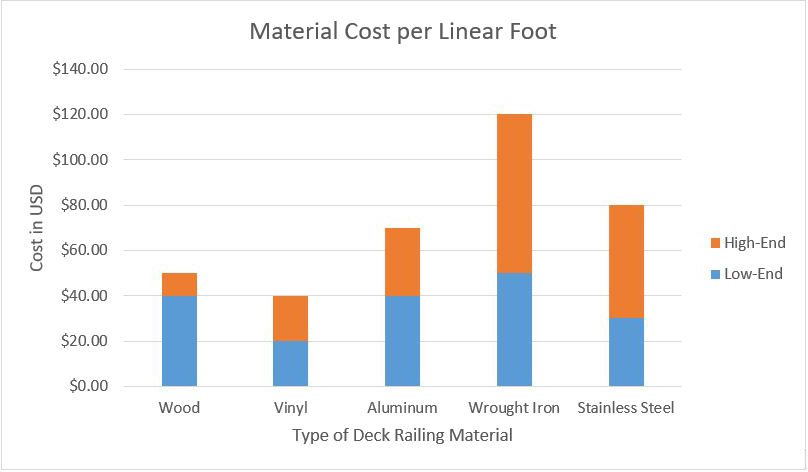 Source: Home Advisor
3. Is Vinyl Deck Railing Good?
A vinyl deck railing is an excellent choice for your next deck or porch construction project. It looks great, is solid and durable, doesn't require much maintenance, and is an affordable option for homeowners looking to wow their guests. In addition, it won't rust like wrought iron or gray in the sun like wood. Aluminum is also an excellent railing option, with long-term strength and low-maintenance costs.
Aluminum and vinyl deck railings from Elite Outdoor Expressions also come with a lifetime warranty, so you can breathe easier knowing that if something were to happen to your bottom, vertical, or top rail, we have you covered!
4. How Much Are Vinyl Rails?
Vinyl rails cost about $20 to $40 per linear foot, not including labor costs. However, since they don't require any maintenance besides a yearly power wash, the cost of the materials and installation is virtually the only expense you'll have with this railing system.
If you're looking for porch, deck, or stair rails that will give you the most bang for your buck, choose vinyl or aluminum railings. Since vinyl rails are so affordable and require little maintenance, they have been booming in popularity in recent years. Aluminum railings are also becoming more popular since they feature many of the benefits of vinyl railings, such as low-maintenance, strength, and corrosion resistance.
5. How Do You Install Vinyl Railing on a Deck?
Installing vinyl railing on a deck is easy but is best left to the professionals. They know the rules of the International Residential Code (IRC), so you are sure that your vinyl deck railings meet the appropriate requirements.
For instance, all residential decks 30 inches or more above ground must have a guardrail of at least 36 inches, or 42 inches in states with such requirements, like California. Business decks follow the International Building Code (IBC) and must be at least a 42-inch height. There are also load-test requirements for balusters and top rails, so that's why we recommend installation by a professional.
Professionals can help you get the necessary permits and ensure your deck railing meets applicable building codes. Plus, professional installation gives you the peace of mind of a lifetime warranty, which some material manufacturers don't grant unless commercial contractors have installed the deck railings. And you don't have to worry about acquiring the skill and find the time to do the project yourself.
6. Are Vinyl Railings Strong?
Yes, vinyl railings are strong and durable as they are aluminum reinforced. They are more robust than wood but not as strong as a material like wrought iron. So, if your friends are over and their kids start rough-housing, a wood deck railing may easily break and injure them, whereas a vinyl railing is impact-resistant, so it likely won't break.
Aluminum railings are also a solid deck rail material.
7. How Long Do Vinyl Railings Last?
Vinyl railings are a long-term investment, lasting upwards of three decades. It is the longest-lasting lifespan of all decking materials and requires little upkeep. Vinyl deck railings are an excellent investment for homeowners looking to stretch their dollar while having strong, quality railings that can stand the test of time.
Another excellent investment is aluminum railings, lasting about 20 years or longer. Either way, when you choose vinyl or aluminum deck railings from Elite Outdoor Expressions, you're setting yourself up for years of beauty and protection for your outdoor living space.
If You Have More Questions about Aluminum and Vinyl Deck Railings, Contact Us!
When installing aluminum or vinyl deck railings in central and southeastern Pennsylvania, there is no better choice than Elite Outdoor Expressions. As demonstrated through the expert answers we gave to your seven most frequently asked questions about deck railings, we know this business and stand behind our materials and craftsmanship.
If you have any additional questions about deck railings or would like a quote to get new aluminum or vinyl deck railings installed at your home or place of business, feel free to contact us!