Deck & Porch Railing Styles near Harrisburg & Lancaster, PA
Serving the Lancaster, York, Harrisburg, Lebanon, Reading, Allentown, and West Chester, PA Areas
Looking for quality railings for your deck or porch? Elite Outdoor Expressions offers commercial-quality vinyl or aluminum railings for any application! If you've never considered vinyl railings, you can learn more about their pros and cons here.
Our railings are available in a variety of styles, designs and colors to bring out the beauty in your home. Visit our showroom in New Holland, PA, an easy drive from Lancaster, Lebanon, York, West Chester or Allentown, to see all of our railings on display!
Vinyl Railings
Beautiful designs, maintenance-free, commercial durability. A cost-effective alternative to wood railings.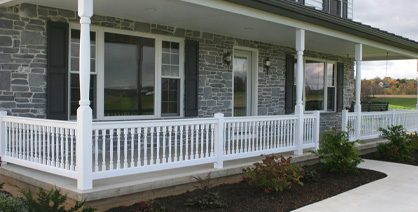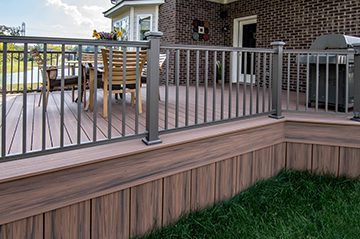 Aluminum Railings
Elegant and graceful railing styles. Choose from Arabian or American styles for truly unique railing options.
Railing Accessories
Looking for gates, handrail, post caps or trim rail to complement your railing?
Expert Installation Makes the Difference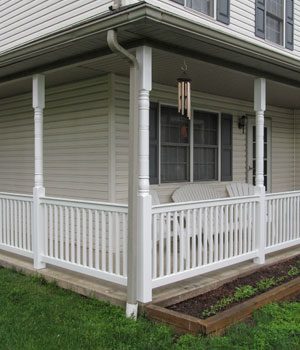 At Elite Outdoor Expressions, we don't just provide beautiful, durable railings that highlight your home's best features. We offer custom installation throughout Lancaster, Lebanon, York, West Chester or Allentown, so you get the best look possible.
Our 15+ years of installation experience means we avoid common pitfalls, for a perfect installation every time! We've done thousands of railings, so we pay attention to the small details that most homeowners don't think of… like:
Placing railing posts so they don't obstruct the view or a walkway
Making sure the railing height is appropriate for the use of the area
Properly spacing every spindle so they are even and symmetrical
Securing stationary post and substructure installation so it remains sturdy and functional for years to come
Ready to get started? Contact Elite Outdoor Expressions for an accurate price quote, quality products and expert installation for your vinyl or aluminum railings. We offer quality installation service throughout Lancaster, Lebanon, York, West Chester or Allentown, PA.