Be the Envy of the Neighborhood with High-Quality Poly Outdoor Furniture
Are you tired of dealing with…
Outdoor furniture that doesn't last
Patio furniture that fades, cracks, and is uncomfortable
Having to repaint the same furniture over and over again
Being embarrassed by the way your furniture looks after being exposed to the elements
Having to spend your hard-earned money and time to make your backyard space presentable
Say goodbye to time-consuming maintenance and say hello to stylish, comfortable, long-lasting furniture. Reinvent your backyard with high-end, low-maintenance poly outdoor furniture to spend more time relaxing in your backyard this season and less time on frustrating maintenance.
High-density polyethylene (HDPE) furniture is designed for savvy homeowners like you who want a great look for their outdoor space without the high maintenance cost.
For over 28 years, we have been making it convenient for homeowners to transform their outdoor spaces with our premium poly outdoor furniture. As one of the top vinyl manufacturers east of the Mississippi, we have all the latest styles and colors to match your outdoor décor.
So, if you're tired of wooden furniture that is prone to rot, splinters, and fading, then it's time to invest in high-quality poly outdoor furniture that will make your neighbors jealous. Visit our showrooms in New Holland or Lemoyne, PA (conveniently located near Lancaster and Harrisburg, PA), and start transforming your backyard today!
Choose Your Outdoor Furniture Style
Choose from a great selection of poly outdoor furniture that will add low-maintenance aesthetics and style to your outdoor enjoyment. We have beautiful patio furniture sets, poly Adirondack chairs, pool furniture, and poly rocking chairs for rest, relaxation, and entertainment this season and many seasons to come!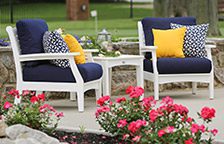 Invite your friends and family to unwind in the comfort, style, and safety of your backyard with our ultra-durable furniture that's built to last. The Classic Terrace collection features chairs, sofas, rockers, and more that can withstand stormy skies while remaining effortlessly chic.
Wave goodbye to tedious upkeep with low-maintenance furniture that only requires a fast soapy rinse to stay dazzlingly pristine. The Comfo-Back collection has Adirondack-type chairs that allow you to embrace a splinter-free future without worrying about warping or rotting.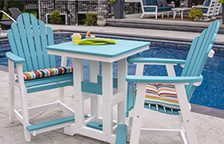 Discover a whole new world of outdoor furniture with the Cozi-Back collection! Thanks to the superior UV protection that helps retain its rich hue and glossy finish, even the harshest season won't dull its vibrancy. Enjoy unbeatable comfort that allows you to live your best life outdoors.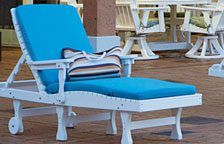 Bask in the glow of our fade-resistant furniture that refuses to give in to wear and tear, making your investment time-proof. The Casual Back collection of chaise lounges, swings, and rockers allows you to indulge in unbeatable comfort while remaining affordable.
Dine in ultimate style and comfort with feather-light portable furniture, so you can easily store and move it. Our Dining collection has dining and picnic tables of all styles that will bring envious reviews from your guests about your impeccable taste as a connoisseur of exquisite luxury.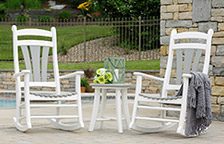 Embrace the epitome of stylish relaxation, effortless glamour, and lasting value with our range of outstanding poly outdoor furniture. Our Porch Rocker collection comes in a stunning array of styles, colors, and types to flawlessly harmonize with any and every décor.
The Premium Poly Outdoor Furniture Advantage
You won't find the top-quality, low-maintenance products we offer at your local hardware or big box store. Other plastic-type chairs are flimsy and deteriorate quickly under normal weather conditions. Wood outdoor furniture is prone to rot, pests, fading, and splintering, requiring you to spend your money and time repainting or restaining every few years. Similarly, metal furniture tends to rust and weaken yearly, requiring frequent touch-ups.
With poly outdoor furniture, you can eliminate all your upkeep frustrations. Just give your poly furniture a quick clean with simple soap and water to keep it looking newer for longer. You won't have to pay close to what you'd pay for maintenance for other furniture types. Plus, you'll enjoy these great benefits!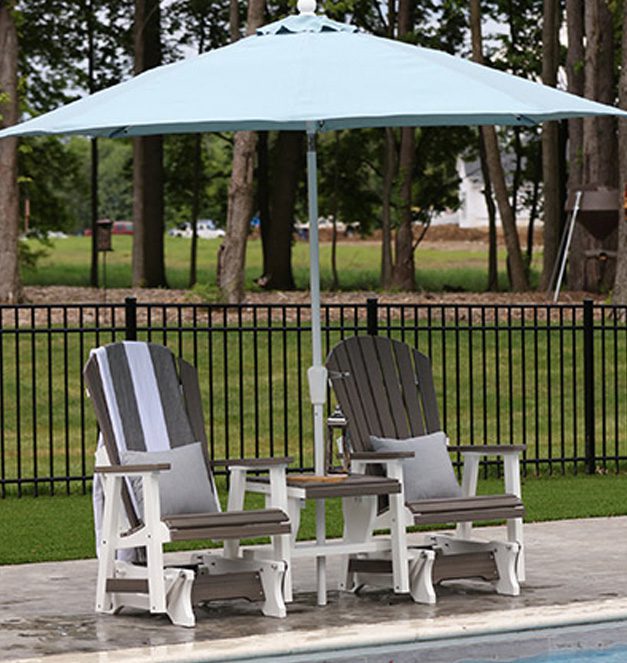 Low-Maintenance
Our poly furniture won't crack, rot, or splinter and requires no painting or ongoing maintenance. Leave it outdoors in every season, and it will still look great!
UV Protection
Superior fade resistance means rich colors that last and last. That means you can enjoy your furniture's stunning style and color for years to come.
Environmentally Friendly
Our furniture is made from high-grade recycled plastic found in milk jugs, so you can feel good about your choice.
Unmatched Comfort
Finely engineered with precision parts for ultimate comfort and style!
Incredible Durability That Lasts
Your poly outdoor furniture provides superior strength and durability, so you never have to worry about the safety of your family or guests.
See How Others Enjoy Poly Outdoor Furniture
Other style-savvy homeowners like you have already taken advantage of the benefits of poly outdoor furniture, decks, and railings. Don't be left behind! See what others have to say about our products and service.
"I am the Construction Manager of a custom home building company in Central PA. Ken and his crew consistently provided the best service and end product for many of our new home construction projects. They take great care in all aspects of their business, communicate well, and you will be hard-pressed to find any flaws in their work. I highly recommend this company."
– Victor V. via Google
"The Elite Outdoor Expressions team is the best of the best. The design, deck installation, service, and expertise that we received exceeded our expectations. Also, we cannot imagine a deck being better constructed. We have received many compliments from our neighbors on our beautiful new deck, as well as our terrace. We would highly recommend Elite Outdoor Expressions for your next deck installation project."
– Christopher Z. via Google
"Fantastic experience! Our quote for a new porch railing and support rails was very reasonable. The crew that came for the installation was incredibly professional. They were happy to answer questions and completed the work efficiently and with absolutely no mess anywhere! This will add immensely to the curb appeal of our home, and we will enjoy sitting out in the evenings!"
– Theodore G. via Google
Ready to Upgrade Your Outdoor Patio Furniture?
You could pay $500 to $2,000 for a wooden or metal furniture set, plus several hundred dollars over the life of the furniture for upkeep to enjoy your outdoor furniture. Or you could enjoy all our poly outdoor furniture's benefits, styles, and colors and only pay once. You'll save time, money, and stress when you choose our long-lasting furniture that only requires occasional cleaning.
Plus, we're the only dealer of this furniture in South/Central Pennsylvania and pride ourselves on top-notch service. You'd have to travel much further to find another dealer with the same high-quality furniture. We'll also make sure the buying and delivery experience is as easy as possible for you, so you can return to enjoying time outdoors.
Visit our New Holland or Lemoyne showroom, a short drive from Harrisburg or Lancaster, PA, today! You can also contact us with your questions, and we'll be happy to respond as quickly as possible.