With the coming of the new year in 2023, new trends in deck furniture design are on the horizon. From contemporary styles to timeless classics and everything in between, there's something for every taste and budget when decorating your outdoor space.
There are many outdoor patio furniture options available in the market today. Whether looking for a modern, contemporary look or something timelessly classic, poly outdoor furniture always delivers. Here are some of our top picks for patio furniture designs in 2023.
1. The Natural, Neutral Look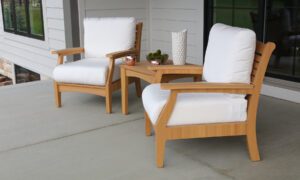 Natural, neutral outdoor furniture is evolving in so many wonderful ways. New sustainable hardwoods like teak, cedar, and ash provide a gorgeous backdrop that enhances the lush greenery and colorful blooms of any outdoor environment. But the problem with these materials is that they can rot, warp, and fade over time. Poly furniture is a better choice because it doesn't face these issues and can be made to mimic the natural look of wood.
Our reimagined styles offer updated silhouettes with precise and sleek lines that deliver both comfort and style without the worry associated with wood outdoor furniture.
Of course, if you're going for a classic coastal look, you can always choose neutral shades like beige or white that are perfect for accenting a muted blue and gray palette against an ombre sky at dusk.
2. Add Colorful Accessories
Adding a few colorful accessories to outdoor furniture is an easy and inexpensive way to bring a modern, contemporary vibe to your outdoor space. Colorful outdoor cushions, for example, are easy to switch out, and you can find them in various colors, prints, and textures.
Think also of statement pieces like deck chairs and benches in bold colors or patterns that can really make an impact. These eye-catching outdoor furniture pieces will be conversation starters while adding fun color to the deck or patio.
Brightly colored Adirondack chairs or Comfo-Backs can also provide a cozy accent to any setting while adding a classic style. If you're looking for something with more flair, try patio furniture in fun shapes like hexagons and zig-zags to make your deck stand out.
3. Get Creative with Lighting
Good lighting can make all the difference in how people see your patio furniture, and in 2023, you'll want to up your lighting game. Consider adding string lights or lanterns around your patio furniture for a soft, romantic ambiance that will make any outdoor gathering special.
For a more dramatic flair, consider solar deck lights fixed inside your deck's post caps for a shimmering, twinkling effect. This added lighting complements patio furniture pieces like chaise lounges or Adirondack chairs exceptionally well.
No matter what style you choose, patio furniture lighting is an excellent way to add some sparkle and personality to your outdoor space.
4. Plants, Plants, and More Plants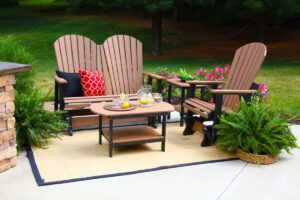 When it comes to outdoor furniture in Lancaster, PA, you can never have too many plants! Bring your patio furniture to life with lush foliage and colorful blooms that add texture and dimension to your deck or patio.
Vines, shrubs, and other greenery can be used to create a beautiful backdrop for your patio furniture, while hanging flower baskets can provide a pop of color and charm.
Opt for outdoor patio furniture pieces with built-in planters and shelf space to maximize your deck's potential, or even incorporate trellises or raised beds into the outdoor furniture design for added sophistication.
No matter how you mix and match patio furniture, plants are a great way to bring the outdoors in and give your deck or patio that special something.
5. Create an Outdoor Lounge
Creating an outdoor lounge space is a great way to transform your deck into a cozy and inviting gathering spot.
Consider patio furniture pieces like sectionals, loveseats, and ottomans that can be arranged in various configurations for maximum comfort while providing plenty of outdoor seating options.
Add throw pillows and plush throws for an extra layer of softness and comfort, or patio furniture pieces with built-in cushions for a touch of luxury.
Outdoor area rugs can also add a cozy texture and pattern to patio furniture while defining an area for lounging.
Mix and match patio furniture pieces with outdoor accessories like side tables and coffee tables to create the perfect spot for gathering with friends and family this season.
6. Add Some Fun
When choosing the right outdoor patio furniture, it's important to consider more than just comfort and style. In 2023, more families are going to be looking for ways to add more fun and entertainment to their outdoor spaces.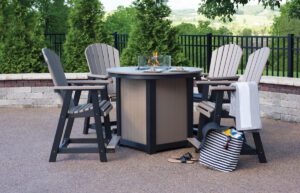 For example, hammocks and swings can bring hours of joy for adults and children alike while providing much-needed relaxation. Similarly, why not try outdoor furniture sets with built-in games like chess or checkers?
It's an excellent way to create family memories in an entertaining yet informal setting. And when the temperatures get lower in autumn and winter, outdoor heaters or fire pits are a great way to keep your friends and family warm while still enjoying the outdoors.
Including these few extra elements ensures that your outdoor furniture is practical and adaptive enough for any occasion!
7. Create a Casual Boho Style
Consider creating a boho-style outdoor space for patio furniture ideas that have a casual yet chic feel. This popular 2023 deck style will feature light, airy colors, and patterns paired with comfortable deck furniture pieces like sofas and lounge chairs.
Mix-and-match furniture designs are ideal for this deck style, as they bring a unique, eclectic touch. Hang colorful macrame wall hangings and rugs over the deck railing for an added touch of texture and coziness.
Finally, place some terracotta planters filled with foliage around your deck furniture pieces to complete the look. With the right pieces, you can create a deck perfect for cozy gatherings or relaxing on your own.
8. Why Not Try an Outdoor Kitchen?
Why not consider going all out and creating an outdoor kitchen when searching for outdoor furniture ideas? This deck design can easily be adapted to any style, from modern to classic.
Select outdoor furniture pieces that can double as storage for kitchen equipment, such as a built-in bench and buffets. Then add deck furniture like bar stools or outdoor chairs so your guests have somewhere to sit.
Finally, place a cooking island in the center of your deck and fill it with all the necessary equipment to create your cooking area. This deck design will be perfect for hosting outdoor barbecues or enjoying an al fresco meal.
You can even add a dining table and chairs to the deck for larger gatherings. Outdoor dining in 2023 is definitely a must-have feature.
9. Make the Most of Small Spaces
If you have a small deck or balcony, don't worry! You can still create an amazing outdoor space that is on trend for 2023. Simply choose deck furniture pieces that are light and easy to move around, such as folding chairs and tables.
You can also choose furniture with built-in storage features or opt for furniture pieces that come in bright colors and patterns to add more personality to the deck.
Finally, add some potted plants and wall hangings to create a relaxed atmosphere while still making the most of the limited space. You can quickly transform even the smallest deck or balcony into an inviting outdoor oasis with just a few patio furniture pieces.
Interested in building a larger deck with maintenance-free materials? We can help with that too! Get in touch with us today to learn more!
10. Create Outdoor Sectionals
Why not opt for an outdoor sectional for outdoor furniture ideas that make a significant impact? This deck furniture piece is perfect for creating cozy nooks and conversation areas on your deck.
Choose furniture pieces with weather-resistant materials and cushions. Look for furniture pieces that you can easily rearrange or updated to create different deck layouts throughout the year.
Finally, complete the look with colorful outdoor pillows and a few potted plants for a relaxed atmosphere perfect for lounging and entertaining on a sunny day.
You can easily create a stylish and practical deck with deck furniture like this.
For Stunning and Maintenance-Free Deck Furniture, Contact Us!
Whether you're looking to spruce up your current outdoor furniture or start afresh, these outdoor furniture design ideas for 2023 will help you create a stylish, comfortable, and inviting atmosphere in your backyard.
With the right pieces of deck furniture from Elite Outdoor Expressions and some creativity, you can make any outdoor space look like an extension of your home. So, get inspired and find the perfect solution for your home this year.