Elite Outdoor Expressions is Central PA's #1 Choice for Vinyl Deck Railings
At Elite Outdoor Expressions, we specialize in designing, building, and renovating vinyl decks—from the deck structure to the finishing touches, like our line of durable and maintenance-free vinyl deck railings.
There's no question. Homeowners throughout Central Pennsylvania choose us for our depth of experience installing railing systems of several types (including aluminum porch railings), but it's our incredible selection of beautiful vinyl deck railings in a range of styles that sets us apart.
So, how do you choose which vinyl railing will look best surrounding your unique deck?
Just get in touch with our deck-building experts, who are ready to help you compare all your options!
Vinyl Deck Railings: High Style Without the Maintenance
While you can choose between many materials, including wood, aluminum, wrought iron, and vinyl for your deck railings, there are quite a few reasons why most busy homeowners end up choosing vinyl — and why you should too!
In short, vinyl deck railings are big on style while low on maintenance. Unlike wrought iron railings, vinyl railings won't rust. Vinyl railings are also a great alternative to wood railings since they don't require staining or painting every few years. But that's not nearly all.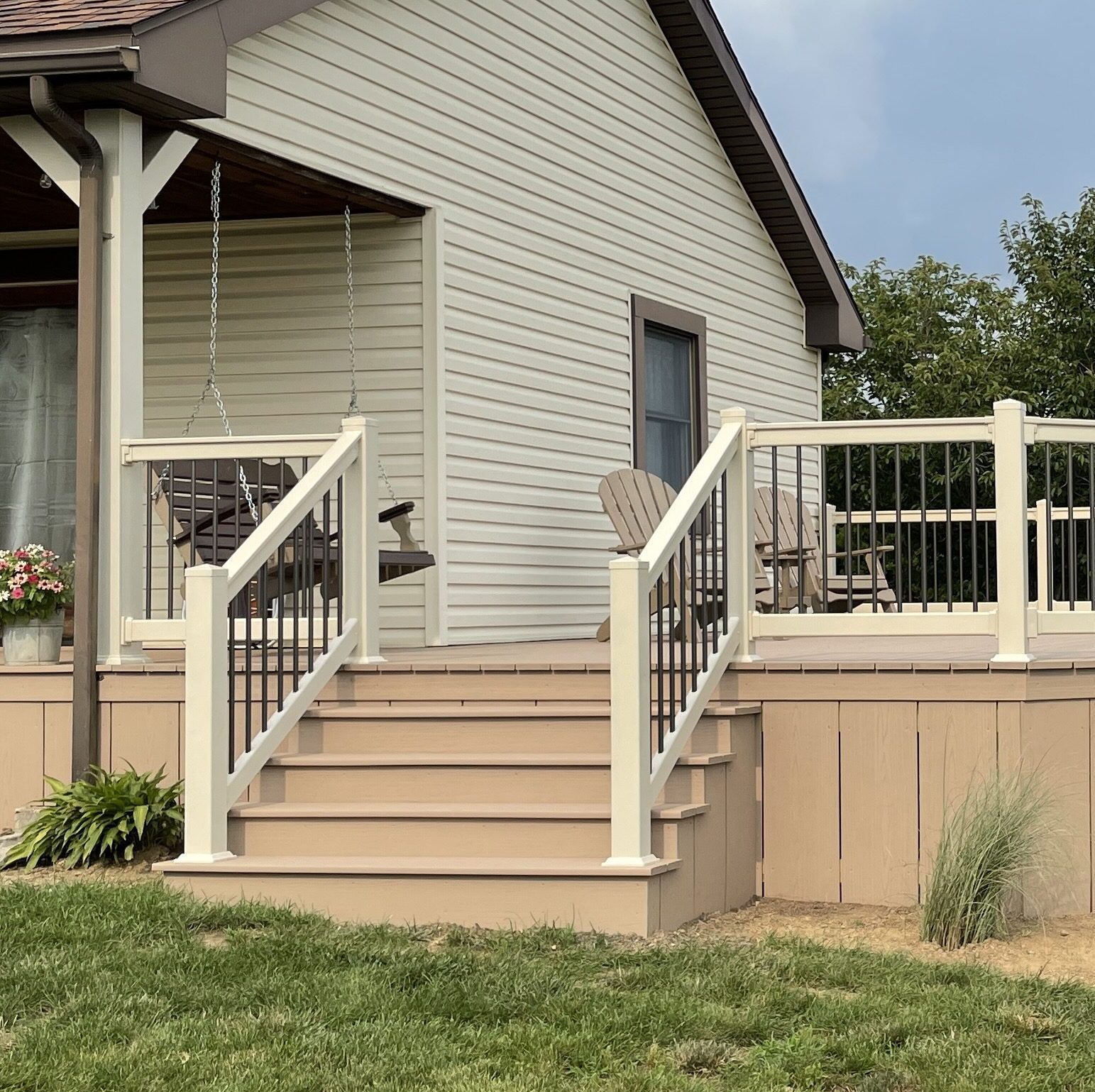 5 Big Advantages of Vinyl Railings Vs. Wood
1
Vinyl railings are UV-stable and won't fade or become discolored over time.
2
Hate splinters? Vinyl is smooth to the touch and won't crack or splinter like wood.
3
Vinyl railings are easy to clean with a pressure washer—without the worry of damage.
4
Like to grill on or near your deck? Vinyl is fire resistant and safer than wood.
5
Premium, commercial-grade vinyl like we use in our railings is physically stronger than wood.

Are You Ready to Build Your New Deck with Premium Vinyl Railings?
Need a Little Inspiration to Plan Your Deck Railings?
At Elite Outdoor Expressions, we believe that describing our vinyl deck railing systems is one thing—but seeing the finished product installed tells a much more complete story about how our beautiful railings look next to the perfect deck. You won't want to miss our photo gallery of past deck railing projects and so much more!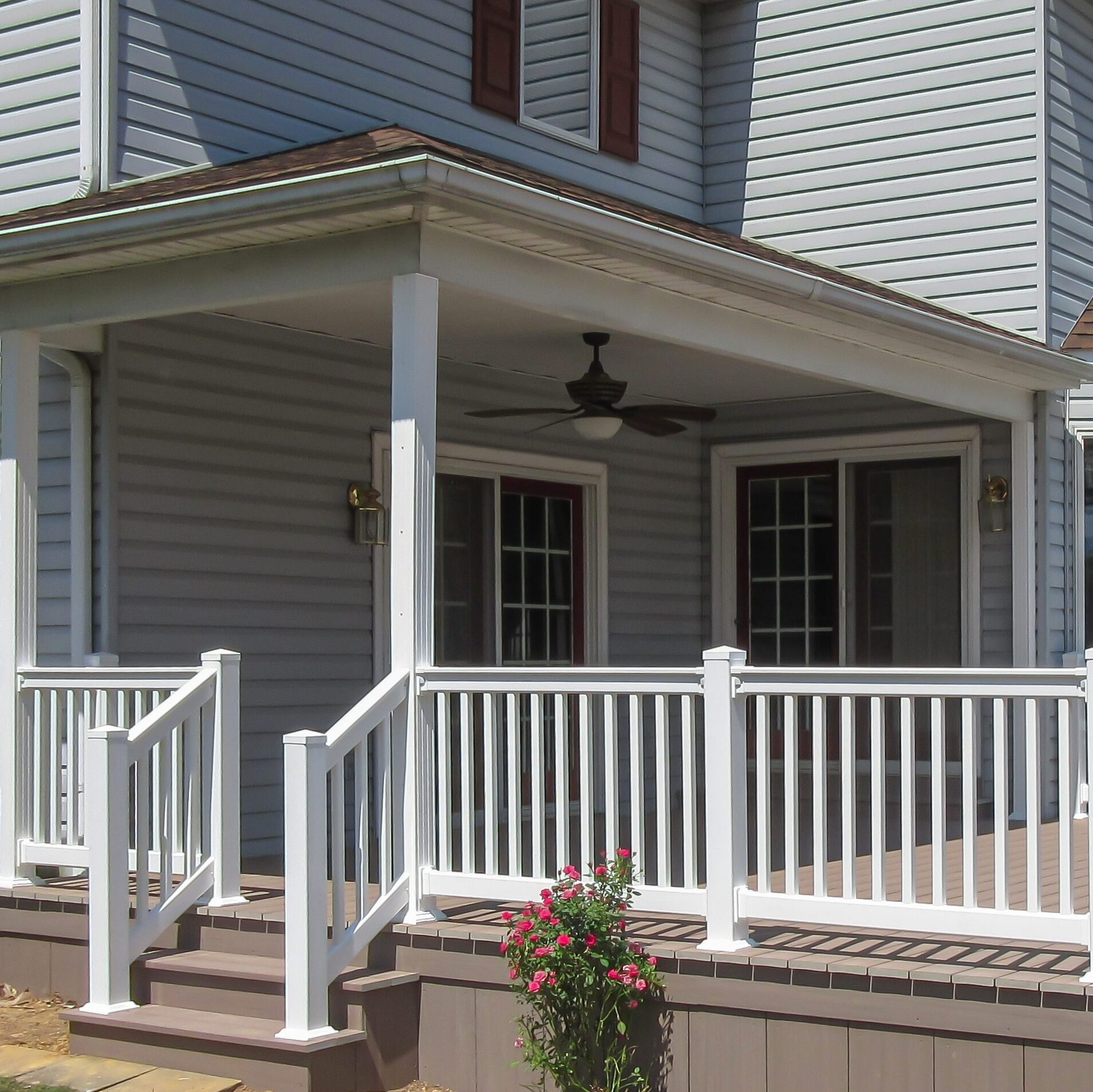 FAQ: How Do I Build a Deck Railing System that Lasts?
If you're the type of homeowner who enjoys completing DIY projects around your home and backyard, you're probably well aware that building your own deck and railing system from wood can be a fulfilling venture.
However, while you can certainly DIY your deck, stair rail, or porch railings out of lumber, it's not the safest thing to do—or even the most cost-effective over the long haul. Wood just doesn't last. And if you do not have professional construction skills, it can be challenging to build a deck that's up to building code standards.
The best way to build a strong deck railing system that will last for decades is to trust the pros at Elite Outdoor Expressions. We will help you choose the right materials—most often maintenance-free vinyl—and we'll take all the guesswork out of installation, too.
Get the full story in our blog article all about building better deck railings out of durable vinyl.
Elite Outdoor Expressions: Central PA's Best Vinyl Decks Builder
At Elite Outdoor Expressions, we have been the Lancaster and Harrisburg, PA region's choice for the installation of custom vinyl decks and railings since 1995. We've earned a reputation for top-notch service and outstanding product lines and warranties that our customers deserve.
When you want to create a genuinely maintenance-free outdoor entertaining space, trust the professionals at Elite Outdoor Expressions.