Accessories for Outdoor Railings
At Elite Outdoor Expression, we believe that every part of your outdoor railings should be built to last. And when we say every part, we mean it! From top and bottom rails to the post caps and all other railing accessories, every piece should withstand the test of time. That's why we use the highest-grade materials when we create accessories for your porch railings. We design outdoor railings to be strong, durable, and low-maintenance so that you can buy them once and never have to worry about them again!
Just like the rest of our vinyl deck railing products, these accessories are waterproof, won't rust, and don't require paint to freshen their look. Our railings are the easy-to-install, efficient and economical option for a long-lasting home aesthetic.
Whether you're looking to upgrade your existing deck or preparing to build one from the ground up, outdoor railing accessories from Elite Outdoor Expressions are the perfect look for your porch, patio, or outdoor space.
Ready to get started on your next home improvement project? Elite Outdoor Expressions is here to help! Take a look at some of our past work to get a feel for what we can do to enhance your outdoor space. Our outdoor rail accessories are just the things you need to add the perfect finishing touches to improve your home's overall curb appeal.
Gates
Matching gates are available for all of our railing designs. There are no standard gate sizes for our railings—we will custom make them to fit any opening and can also supply double gates!
Gate Features:
Black, powder-coated, stainless steel hinges are standard.
Heavy-duty hinges built to withstand a lifetime of use.
Self-closing spring set and drop pin available for double gates.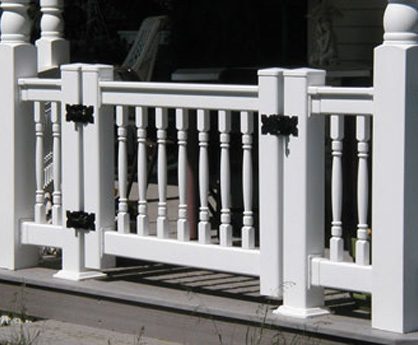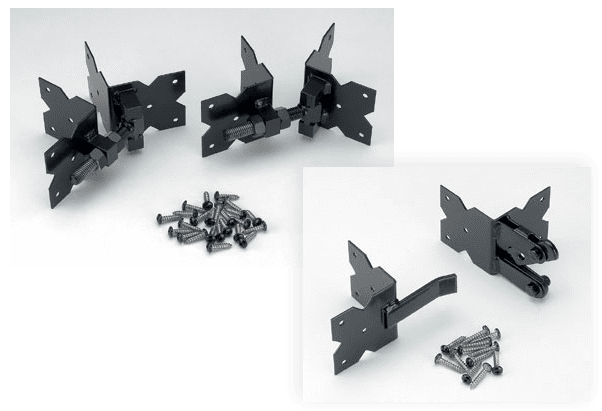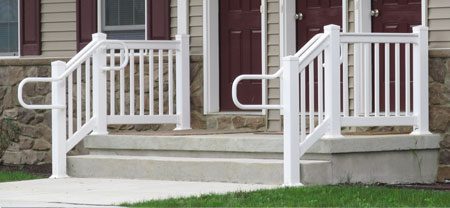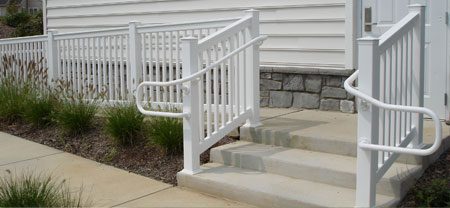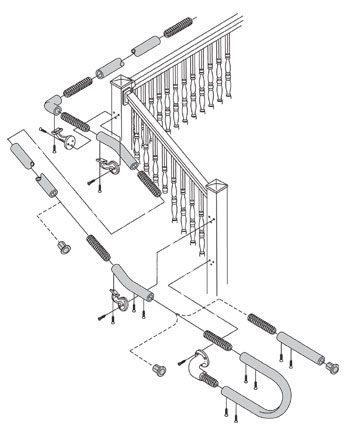 Handrail (Graspable)
Complete your railings with decorative handrails. Our secondary graspable handrail system is used where a 1 to ½" round, graspable handrail is needed or required by code. A graspable handrail is an ideal solution for when you require extra support and stability. We offer a wide variety of parts for many applications.
Post Caps
Simultaneously bolster your railings' performance while giving them a touch of class, a modern twist, or anything in between with unique post caps in a variety of shapes and styles.
Available Post Cap Styles Include:
New England
Spade
Ball
Queen
King
New York
Flat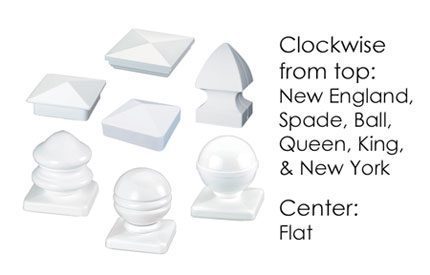 Trim Rail
What once took contractors days or weeks can be accomplished in a matter of hours thanks to vinyl. Add the elegant beauty of decorative trim rail or gingerbread scrolls for a look that truly expresses your unique style!
2 Spoke Design Available:
Straight Spoke
Turned Design
Both styles are available in 8″ or 12″ heights. The rails used on trim measure 1 ¾" x 1 ¾". All trim rail is custom-designed, just like our railings.
---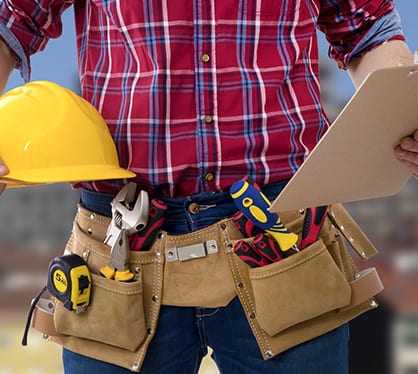 Learn More About Our Vinyl Deck Railings
Need more information about our outdoor railing accessories? Contact us with your questions. We'll be happy to help you pick just the right accessories to go with your new railings.
Elite Outdoor Expressions provides quality decks, railings, and outdoor patio furniture to the Harrisburg, Lebanon, Lancaster, York, West Chester, and Allentown, PA region.