Screened-in porches are the perfect way to enjoy the outdoors while being protected from the sun's harmful rays in the summer, but can also be used on mild winter days. Whether you have an existing screen room or are looking to add a screen to your patio as your next home improvement project, you want to be sure that you get a significant return on investment by being able to use it throughout the year.
At Elite Outdoor Expressions, we've helped customers get the perfect screened-in room for nearly three decades. Using the revolutionary Screen Tight™ system, your screened porch is affordable, easy to install and repair, and made from low-maintenance, UV-protected vinyl. But once our contractors step away and you're left with the ideal combination of indoor and outdoor rooms, how should you use it?
We will answer that question for you in today's blog post. If you have any further questions or want more information about our deluxe screened porches, please contact us!
Uses for Screened-In Porches
To use a screened-in porch year-round, it needs to have three things:
Climate control to remain comfortable no matter the weather
An inviting porch design to make you want to use it
A purpose for every season
Of course, there are things you can do all year in your part indoor/part outdoor living space—like reading a delightful book on your porch swing, using it as a second living room, and enjoying a cup of coffee while watching the sunrise. However, each season brings an opportunity to add unique decorative details and use them for specific purposes. Let's explore how to use your screened-in porch year-round.
Enjoy More Daylight Hours in the Spring Without the Chill of the Wind
Spring is a wonderful time to have a screened-in porch. As the bleak, frigid days of winter end, we begin to enjoy more daylight hours and see life begin to blossom again. In a previous blog post, we've already discussed why you should have a screened room in time for spring, but there are some things you can do to make it more comfortable and valuable.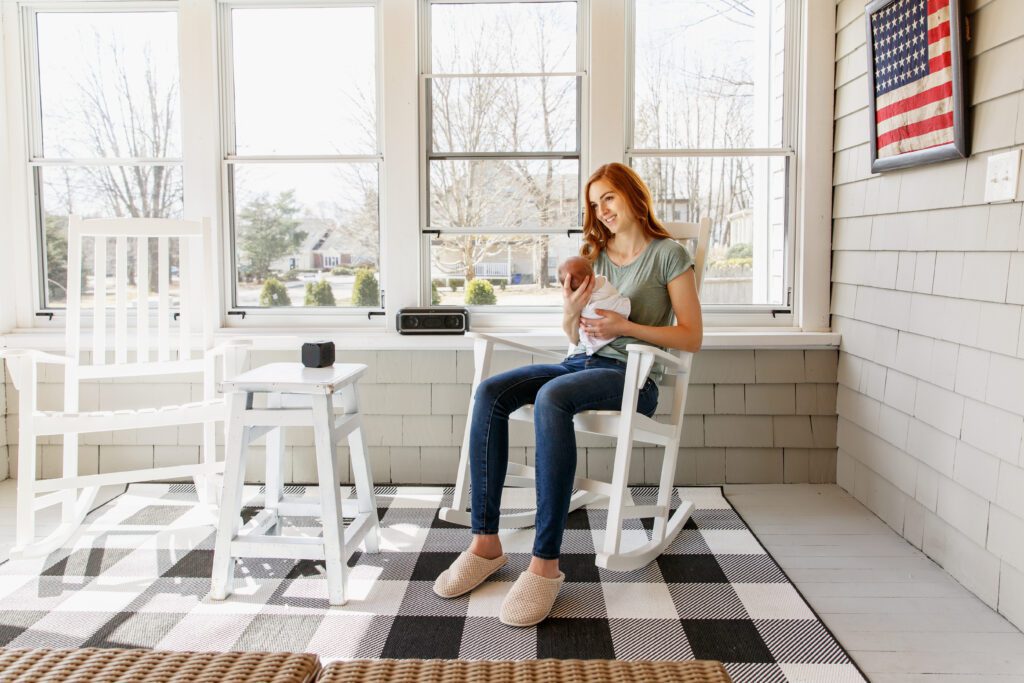 1. Wind Blocks
Central PA weather in the spring is often unpredictable, with snow and sub-freezing temperatures one day and sunny, moderate 60-degree temperatures the next day. The mornings are usually chillier, with the air warming up in the afternoon. Spring winds can also be fierce and put a damper on time spent on your screened-in porch.
To help make the space more comfortable, consider planting trees or shrubs directly against the side of your deck or patio that suffers from the most wind. You can also plant a line of larger trees 15 to 20 feet away to provide wind protection.
2. Go for a Bold Look
Spring is also the perfect time to improve the look of your home, so why not go bold with a bright color on one exterior wall of your home in your screened-in area? It provides the perfect high-contrast backdrop for interior design and a welcoming focal point for the room.
3. Create New Plant Life
If spring has you itching to get your hands in the dirt, but it's still too soon to plant outdoors, consider adapting one area of your screened-in deck or porch as a make-shift garden shed. Begin planting seeds in containers to grow flowers or food right at home. It's the perfect place to do so because it offers protection from the elements while still giving your plants access to the sunlight they need.
Escape the Bugs in the Summer
As summer arrives and the sunlight becomes more intense, you can quickly adapt your screened room to make it more comfortable, stylish, and useful.
4. Ceiling Fans for Comfort
Adding a ceiling fan to your screened-in porch is an excellent way to keep air circulating and cool down the indoor/outdoor area. The open air of the screened-in porch is refreshing, but on sweltering summer days with high humidity, the cooling effects of the ceiling fans will be most welcomed. Be sure to buy "exterior" ceiling fans, as heat and moisture can cause the blades on indoor ones to droop.
Since one of the perks of having a screened porch is enjoying the outdoor elements while avoiding unpleasantries like bugs, you'll want to have a way to keep the bugs out as much as possible. Keep your patio bug-free by adding screens underneath the natural wood or vinyl deck flooring. This way, bugs can't get underneath the flooring and climb into your oasis.
5. Add Indoor/Outdoor Rugs
For porch design in the summer, consider adding indoor/outdoor rugs. It will help keep the floors comfortable to walk on, even when the sun has been beating on them all day, and provides a non-slip solution to wet feet as they run inside from the pool or sprinkler.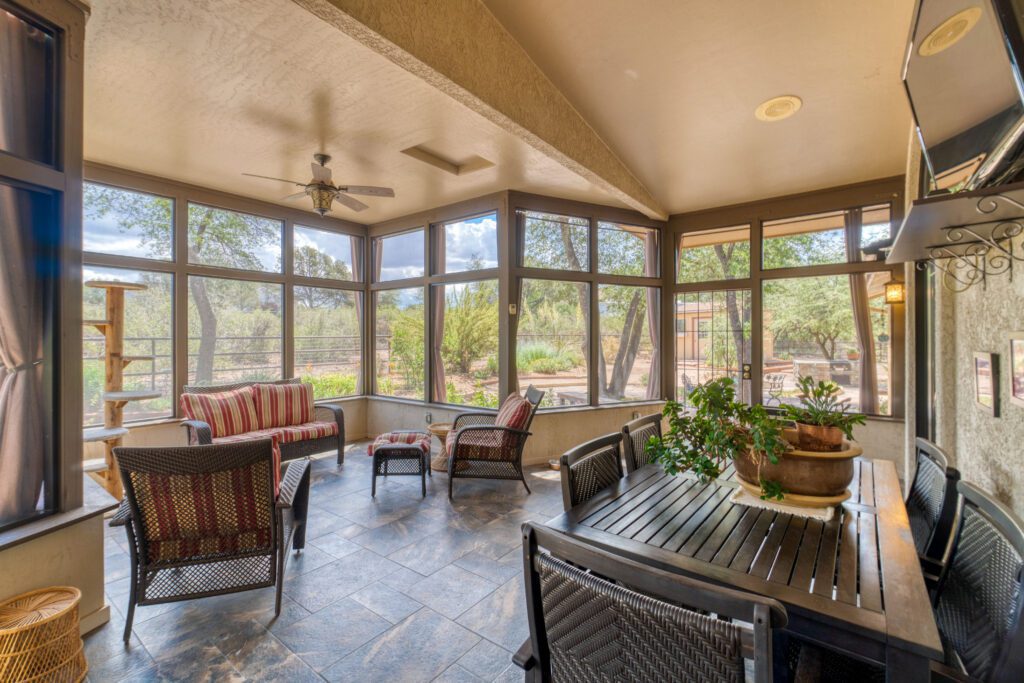 6. Create Multiple Zones for Different Uses
Consider creating multiple zones within your screened-in porch if your square footage allows. For example, a coffee table surrounded by vinyl furniture makes for a lovely entertaining area. A dining table and chairs for al-fresco dining can be on the other side of the room.
Perhaps there's a sitting area with rocking chairs facing towards your screened vinyl windows, so you can watch the kids play outside or the sun as it sets. No matter how you decide to set up your screened porch, add curtains to make the space feel homier and block any blinding sunlight that may get in your eyes.
Sip Cider While Enjoying Crisp Fall Nights
When the weather begins to cool down and the leaves start to fall, you can continue to use your screened-in porch during the autumn. You'll love sipping hot apple cider and hot chocolate with your family under several warm blankets by adding a few things to keep warm and some cozy fall decorations.
7. Add Heating Elements
To heat your screened-in porch, you have a few options. You could choose infrared heat lamps, which warm everything in its radius, including you. You can add a beautiful wood-burning fireplace to get that authentic crackle of wood and lovely smell throughout your porch or deck. For a more contemporary option, choose a gas-burning fireplace that has a convenient ignition and can blend seamlessly with the rest of your design.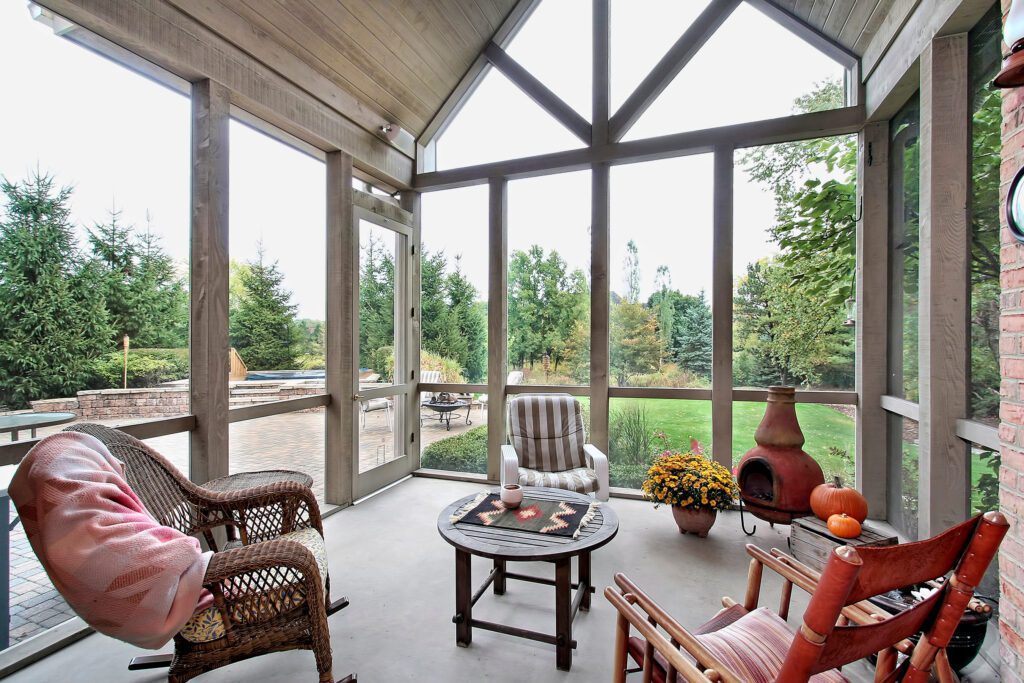 8. Create a Cozy Fall Scene
Fall is the perfect time to bring seasonal decoration into your screened porch. Consider hardy mums and orange and white pumpkins to stay tuned to the season. Strategically add lamps throughout the space to enjoy your screened-in patio as the days get shorter.
Use a bushel basket as a rustic planter or place to put outdoor items. You can also repurpose a wooden ladder and add a cozy blanket on each rung for convenient access. No matter what you decide to add, keep it on par with the season and make sure it brings you joy.
9. Enjoy Fall Holidays While Being Protected from the Elements
Now that you have decorated your screened patio for the fall, it's the perfect place to enjoy the fall holidays. If trick-or-treaters come to your home, consider putting your candy bowl inside your screened porch with a slow-cooker full of hot chocolate. Parents and children alike will be excited to have a place to warm up while on their candy-gathering adventure.
You can also set up a large table and chairs on your screened-in deck or porch to celebrate Thanksgiving. Enjoy the company of family and friends while giving thanks for all your blessings in your beautiful, screened living space. You'll get to enjoy the beauty of nature while being protected from the elements.
Create a Restful Oasis During the Hustle and Bustle of Winter
Finally, as winter comes, you may use your screened-in porch less frequently. For those milder winter days, be sure to make it more comfortable and add cheerful decorations to encourage year-round use of your screened-in patio.
10. Make the Screened-In Porch More Comfortable
Look for ways to make your screened-in porch more comfortable from the frosty winter air. Consider contacting Elite Outdoor Expressions to see about converting your screened-in porch into a four-season room. By adding glass, insulation, siding or brick, and HVAC, your porch can be comfortable for use in the winter.
You can also try space heaters or heated throws, but these are not particularly energy-efficient or safe. However, if only in use when adults are around, it can suffice to make the space more comfortable.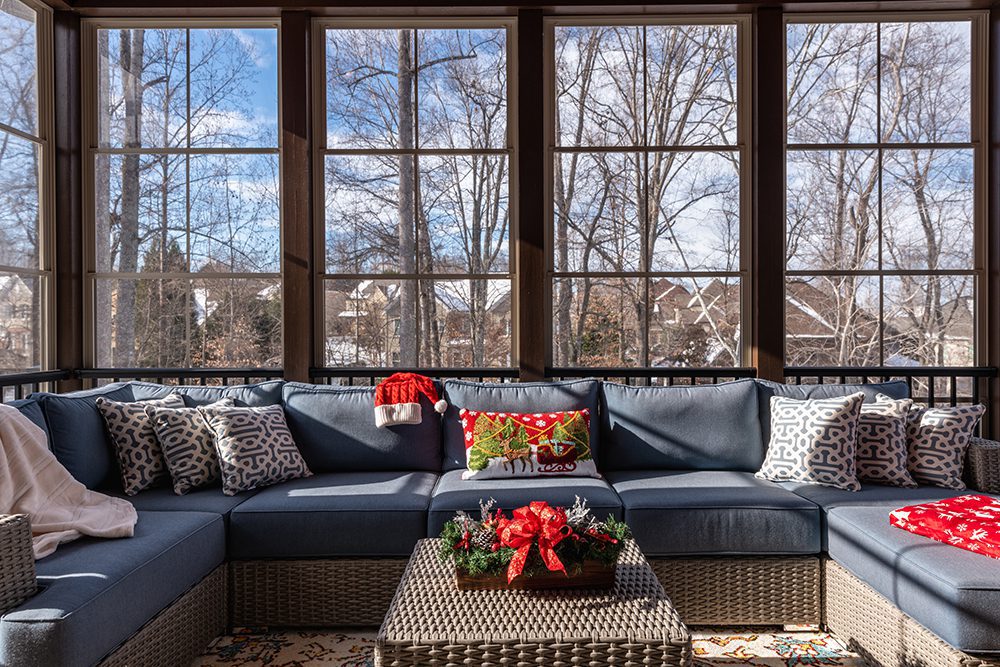 11. Don't Forget Holiday Decorations
Don't forget about your screened-in porch as you decorate your home for the winter holidays! Add a themed Christmas tree to this room, put up your favorite knick-knacks, and hang stockings in this room to make a cozy place to relax.
12. Enjoy a SPOT of Peace
As the hustle and bustle of the holiday season are in full swing, your screened-in porch is the perfect place to escape. Curl up and read an enjoyable book while being surrounded by the lights on the Christmas tree. Wrap gifts and listen to holiday music as an escape from the rest of the world.
Ready to Build Your Screened-In Porch? Contact Elite Outdoor Expressions!
If these ideas have you ready to invest in screening in your porch or deck, you'll want to go to the screened-in porch installer near you that you can trust—Elite Outdoor Expressions! Then, you can put these ideas to work and enjoy your screened-in porch year-round! You'll get the best service and end product when you work with us, plus fast and efficient installation of your screened-in patio.
Get in touch with us today to learn more about our products and services! You'll get a fantastic experience, and with these ideas, you won't have to worry about not seeing enough return on investment.