Whether you call it a screen room, patio enclosure, or screened porch, there's no doubt that adding screens to your porch, patio, or deck can be a welcome addition to just about any home.
If you'd love to spend more time enjoying your backyard without bugs, want to add extra space for family activities, or just want to enjoy your backyard a bit more throughout the warmer months of the year, now is a great time to consider adding a screened porch to your home.
Read on to learn more about what it takes to build your very own screened porch and explore the benefits of this affordable home improvement project.
What It Takes to Build a Screened-In Porch
There are a variety of ways to add a screened porch to your home from adding screening to an existing porch to building a completely new structure.
How to Screen In a Porch
The easiest and most cost-effective way to create a screened porch is to use your existing porch, especially if your roof and flooring are in good condition. However, you may need to replace your existing railings with a screen-friendly framework to effectively enclose your porch. After you've created the framework, it's easy to install the Screen Tight™ screen system that attaches easily to existing 2"x4" or 4"x4" framing.
Turning Your Patio into a Screened Porch
Concrete, stone, or brick patios can be great sites for a screened-in porch and are often much more cost-effective than patio enclosures that incorporate windows. However, in addition to building a framing structure for the screened porch walls, you'll also need to add a roof. Check your local building codes for the type of roof you'll need to comply with zoning regulations. If your patio is attached to your house, you'll also want to match the pitch of your new roof with your home's roof, for a seamless look that adds value to your home.
Creating a Screened-In Deck
Screening in your deck is also a great way to create your own screened-in porch. Like using an existing patio, you'll need to create a framing structure for the porch walls and also add a roof, unless your deck already has a suitable roof. Also keep in mind that adding framing, screened walls, and roofing could exceed the weight capacity of your existing deck. You'll want to consult your local building codes for guidelines or work with an experienced contractor.
New Additions
If you're starting completely from scratch, your screened porch project will be a new addition, requiring roofing, framing, and a suitable base, such as concrete. Screened porches can be built as freestanding structures or added to the existing structure of your home. You'll want to consult with an experienced contractor and your local building code for guidelines.
If you live in the Lancaster, York, Harrisburg, Lebanon, Allentown, or West Chester, PA areas, Elite Outdoor Expressions offers experienced, full-time installation crews who specialize in deck, porch, and railing installation.
How Much Does It Cost to Add a Screened-In Porch?
While screened porches are one of the most economical enclosed porch ideas, the cost to add a screened porch depends on many factors, so it is difficult to pin down a price range out of context. The location of your home, the types of materials used, the size of the porch, and the proposed features are just some of the factors that will influence overall cost. You may want electrical service, lighting, ceiling fans, tile flooring, fireplaces, vaulted ceilings, and skylights for your screened porch, and these elements can add considerably more to the overall price tag.
However, putting in a bit of "sweat" equity to your building project may help you save if you're working with a tight budget. You can:
Take care of your own demolition
Remove old railings or decking on your own to cut labor costs.
Add the screens yourself
The Screen Tight system is designed to make it easy for do-it-yourselfers to install their own screens without staples.
Apply for your own permits
Applying for your own building permits can save time and reduce the labor needed for your project.
Want another way to reduce costs? Hire a contractor during the fall or winter months when contractors aren't as busy. Some contractors are more willing to negotiate lower labor rates during slower seasons.
Benefits of a Screened-In Porch
Keep the Bugs Away
If you hate sharing the outdoors with flies, mosquitos, or bees, a screened in porch creates a perfect refuge. This is especially true on warm, muggy nights in mosquito-prone areas.
More Living Space to Enjoy
A screened-in porch provides extra living space to enjoy during the warmer months, for dining, entertaining, or even relaxing with a good book. Plus, since screened porches provide a more relaxed environment, you're free to add bolder design elements than you might in more traditional areas of your home.
Added Value to Your Home
Many home buyers appreciate the additional living space and attractive features of a screened-in porch. That means better resale value when it comes time to sell your home in the future. Some sources say homeowners can expect to recoup as much as 75% of the cost of their screened porch, depending on their neighborhood and geographic area.
Screened-In Porch Ideas
So how will you use your new screened porch? The possibilities really are endless. In fact, many of the following ideas can be combined to create a flexible, comfortable living space that will soon become your favorite spot in the house.
A Second Family Room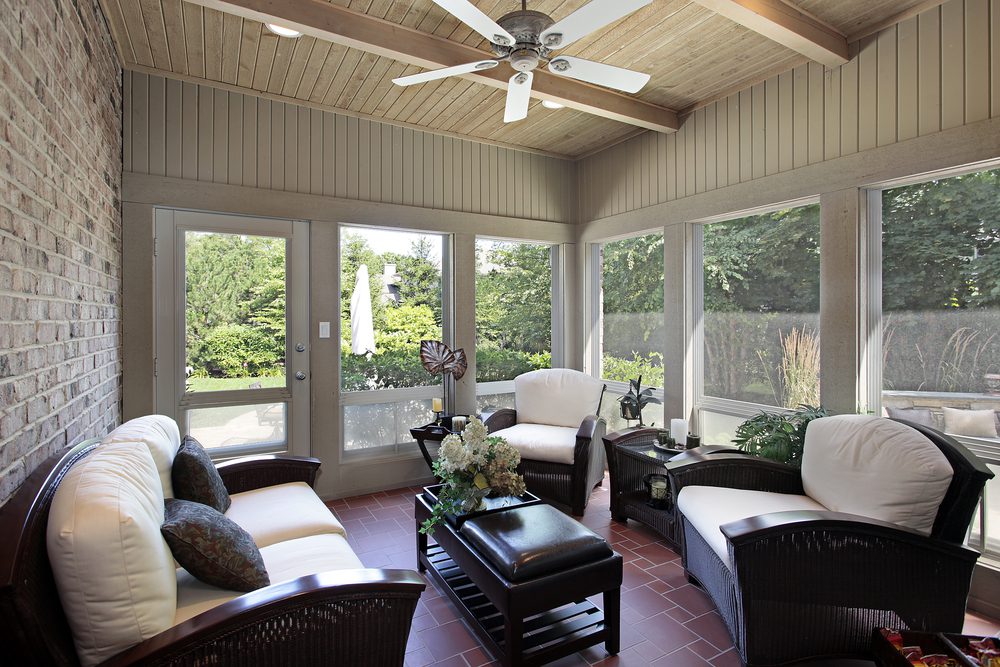 Need a place for hobbies, games, reading, or just chatting over a glass of wine? Your screened-in porch can become the perfect second family room. Just add some comfy patio furniture and an end table or two.
Children's Play Area
Screened-in porches are the perfect space for kids to play, especially on rainy days. Be sure to leave plenty of open space to accommodate toys and games. A small table can be the perfect spot for coloring or art projects too.
Semi-Outdoor Dining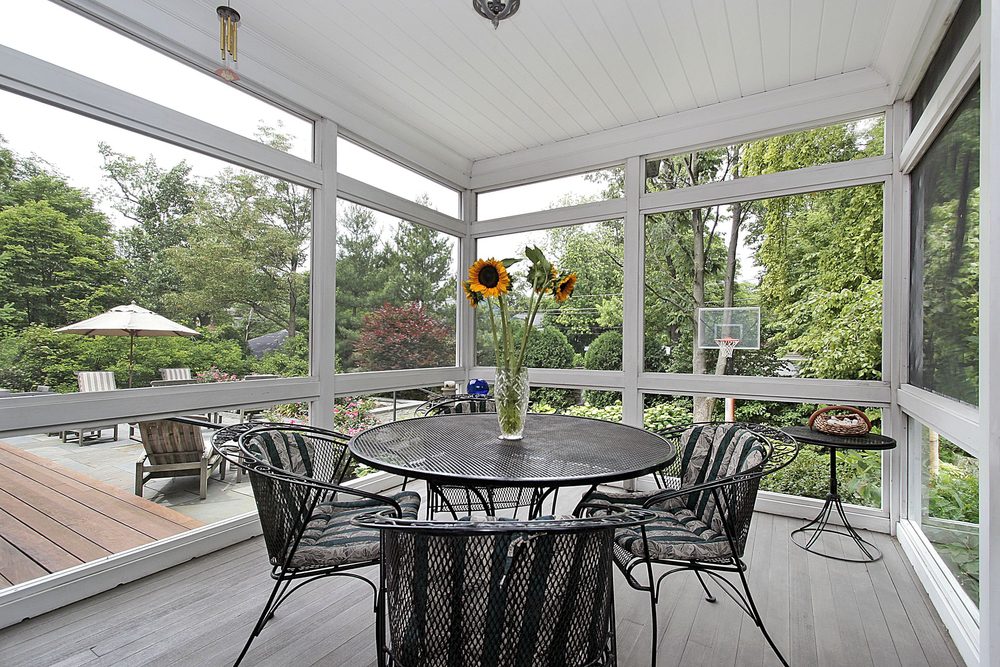 If you love dining alfresco, but hate the bugs that come with it, your new screened porch will become the perfect retreat. Imagine morning coffee, Sunday brunch with the family, or a late dinner on a balmy summer evening.
Picnics/Barbecues
Your screened porch can also serve as the perfect entertainment space for family picnics or festive barbecues with friends and neighbors. No bugs to spoil the party, plus you won't need to worry about unexpected rain showers putting a damper on the fun.
Quiet Time
Whether you enjoy meditation, journaling, or relaxing with a good book, your screened porch can become the perfect haven for quiet solitude while enjoying a bit of nature in your own backyard.
There's no doubt that adding a screened porch to your home offers plenty of benefits, from extra living space and added home value, to creating the perfect spot to enjoy a bit of the outdoors without annoying insects. Of course getting started on any home improvement project can seem overwhelming at first. That's why it's best to talk with a professional about your plans and get the information you need to make the best choices for your needs and budget.
If you're considering a screened porch for your home and you live in the Lancaster, York, Harrisburg, Lebanon, Allentown, or West Chester, PA areas, the experts at Elite Outdoor Expressions are ready to talk with you about your plans. Get in touch with us today to get started!