Looking for more ways to enjoy time on your deck or other outdoor living areas before this summer is over? Today's post features some of our favorite yard or lawn games you can play with your family and friends.
And just because they're called "lawn games," it doesn't mean that you have to play them in the grass. You can modify rules or setup to play on your new dream deck—or even in your comfortably screened-in porch or patio from Elite Outdoor Expressions!
Cornhole
Also known as Bean Bag Toss and a few other regional variant names, cornhole is a uniquely American game.
While it's typically played outdoors, it reportedly developed from a version of quoits—which traditionally involves throwing heavy steel discs at a metal spike in the ground—that was designed to be played in the house. This is interesting because it demonstrates how the game can be played pretty much anywhere you have enough space.
To set up a game of cornhole on your lawn or deck, all you really need are two slanted, rectangular wooden boards with 6" diameter holes cut in them and some bean bags (which should ideally be filled with feed corn to capture the genuine spirit of the game). Cornhole can be played one on one, or you can play "doubles," which will include two people on each team or side.
Now, it's important to know that there are several official cornhole governing bodies that have set standards for gameplay and equipment. Refer to the rules on the American Cornhole Association's website, for instance, if you want to be sure you're laying out your court and tossing your bags per accepted regulations.
No matter how you decide to set up your boards and toss, you'll play rounds or innings until one individual or team reaches or exceeds 21 points. Points are awarded as follows, and each player pitches four bags per inning:
One point goes to any bag that comes to rest anywhere on top of the board. This is known as a Bag In-The-Count or Woody.
Three points are scored for any bag thrown directly into the hole or knocked through the hole by another bag. This is called a Bag In-The-Hole or Cornhole.
Any other thrown bag that doesn't reach the board is known as a Foul Bag and receives no points.
Yard Yahtzee
Yahtzee has long been a favorite tabletop game since you can play it with almost any number of players, but did you know that you can "supersize" it and take it outside? Turning large wood blocks into your five dice and using a bucket instead of a small plastic cup, Yahtzee becomes a full-body sport instead of a game you play at the dining room table.
Check out this video to learn how to make your own game set. (You can also find lots of premade sets to purchase online, as well):
If you've never played Yahtzee before, the object of the game is simple—create number sequences and score points by rolling up to five dice and deciding which to keep during each turn (there are 13 turns for each player in all).
The ultimate sequence you can roll is 5 of a kind—that's called a Yahtzee and is worth 50 points. Scoring this lucky line of numbers generally involves yelling out the word "Yahtzee!" and this game has been known to get a little loud and crazy!
Water Balloon Baseball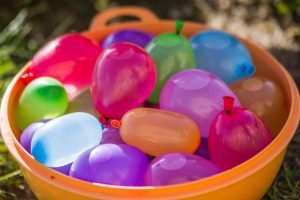 On hot late summer days, there might be nothing better than cooling off in the water. While not all of us are fortunate enough to have a backyard pool, there are plenty of creative ways to involve cool and refreshing water in fun games that also require some healthy physical activity.
Water balloon baseball is exactly what you're probably picturing in your mind—it's baseball, but played with water balloons instead of a ball!
This game is particularly fun for kids, and as such, there are some baseball rule modifications you'll need to make to ensure fair play. For instance, points should be scored for every water balloon broken with the bat (a whiffle ball bat is better than a regular bat for this) instead of by base runners reaching home plate.
You can further change the rules to suit the abilities of the players and find other ways to incorporate the balloons into gameplay, too! Just make sure you have enough water balloons prepped before the game starts, so you don't have breaks in the action!
Patio Chess or Checkers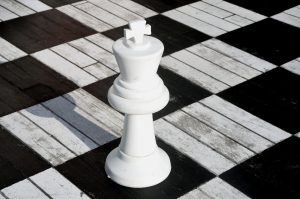 It's true that some people purpose build permanent outdoor giant chess and checkers board patios so they can start a game whenever they want, but you don't have to invest that kind of effort if you don't play often. You can purchase premade sets, which include the larger-than-life chess pieces and a "board" that can be rolled out across your patio or deck.
If you're more of the DIY type, though, you can try these other ideas instead:
Make your own large chess pieces (advanced) or checkers (easier) out of wood and either paint or mark out a board on your deck with sidewalk chalk.
Play human checkers or chess with your friends and family designated as the pieces instead! Be sure people have color-coordinated t-shirts so no one gets confused about which pieces they are! As with the idea above, you'll need to mark out a game board ahead of time.
You can also simply install a regular-sized chess or checkers board in a designated table on your deck or patio if you're more of a traditionalist. Playing these games in the open air makes them much more fun!
Giant Jenga
The tabletop version of this stacking game burst onto the scene a few decades ago and has been a popular party game since that time. As with the giant-sized versions of Yahtzee, chess, and checkers that we already covered, giant Jenga literally enlarges the fun by using bigger game pieces.
Again, you can DIY your own outdoor Jenga set (as in this video), or you can buy premade versions in stores.
Would you rather just relax in your outdoor living spaces without playing games?
While yard games can be tons of fun for kids and adults alike, we realize that many people simply like to enjoy their outdoor spaces with a book and a delicious beverage or meal. There are so many ways you can reinvent your backyard to make sure it suits all your needs. And we can help you bring your outdoor living dreams into reality!
Elite Outdoor Expressions is Central PA's #1 Outdoor Living Resource
If you're looking to enhance your home with a new maintenance-free deck, beautiful vinyl and aluminum railings, or durable outdoor furniture and accessories, Elite Outdoor Expressions is the name to know! We pride ourselves on our top quality products and detail-oriented work.
Give us a call today to receive a fast and friendly quote for your next outdoor living project!