Nothing feels more like summer than entertaining family and friends around the pool, fire pit, or other outdoor living places. So whether you have a deck large enough for the immediate family or a backyard that can host the neighborhood block party, you want to ensure your outdoor space looks its best.
Entertaining spaces come in all shapes and sizes and often depend on individual tastes, available space, and design functions. Unfortunately, what works in one's backyard, won't necessarily work in the neighbor's property across the street. Still, homeowners in the Lancaster County, Pennsylvania area, are lucky they can call on the friendly staff at Elite Outdoor Expressions.
If you want to upgrade your outdoor space with new outdoor furniture or add a unique architectural element such as a pergola or even a screened-in porch to help beat the sun on a hot summer day, Elite Outdoor Expressions can help.
For over 27 years, we've helped homeowners transform their outdoor living spaces with high-quality, freestanding pergola designs. With better customer service and more customized options than a pergola kit you can get at a local big box store, you'll find that it's easier than you think to get the back porch pergola of your dreams.
Contact us today to learn more about all our products and let us help you get started on your next outdoor project.
What Is a Pergola?
A pergola is an outdoor structure composed of columns that support a roofing grid of rafters and beams attached to your house or is freestanding. Pergolas are a convenient place to entertain family and friends, whether by your pool, on your deck, or in the middle of your flower garden. They offer some protection from the elements, but you can get more shade by adding some curtains, a canopy, or climbing flowers (more on this later!).
Elite Outdoor Expressions can make it happen no matter what pergola designs you envision for your space!
What Features Are Available for My Pergola?
With so much time spent indoors in the past few years, many have turned to outdoor spaces for relaxing and entertaining. When you have a feature that sets your backyard apart from that neighbor across the street, such as an outdoor kitchen area to prepare food for tasty summer meals or a fire pit, having some protection from the elements is essential.
Our pergola designs can help. Here at Elite Outdoor Expressions, we construct our pergolas with high-quality, maintenance-free vinyl crafted to withstand the elements well. We have many options available for the back porch pergola of your dreams, including:
Three color options: white, ivory, or clay
Three post sizes and styles: 4'x4' or 6'x6' square posts or round columns. The round columns come equipped with aluminum pipe inserts for stability.
We offer 2×6" beams or 2×4" rails with designed or flat ends. The beams and rails are filled with treated wood for structural strength.
Plenty of roofing options: 7/8" x 3" slats on top spaced 3" apart for shade or lattice sheets for the most shade.
It can be attached to an existing structure, mounted onto a deck, concrete patio, or right into the ground.
Why Should I Consider a Pergola for My Outdoor Space?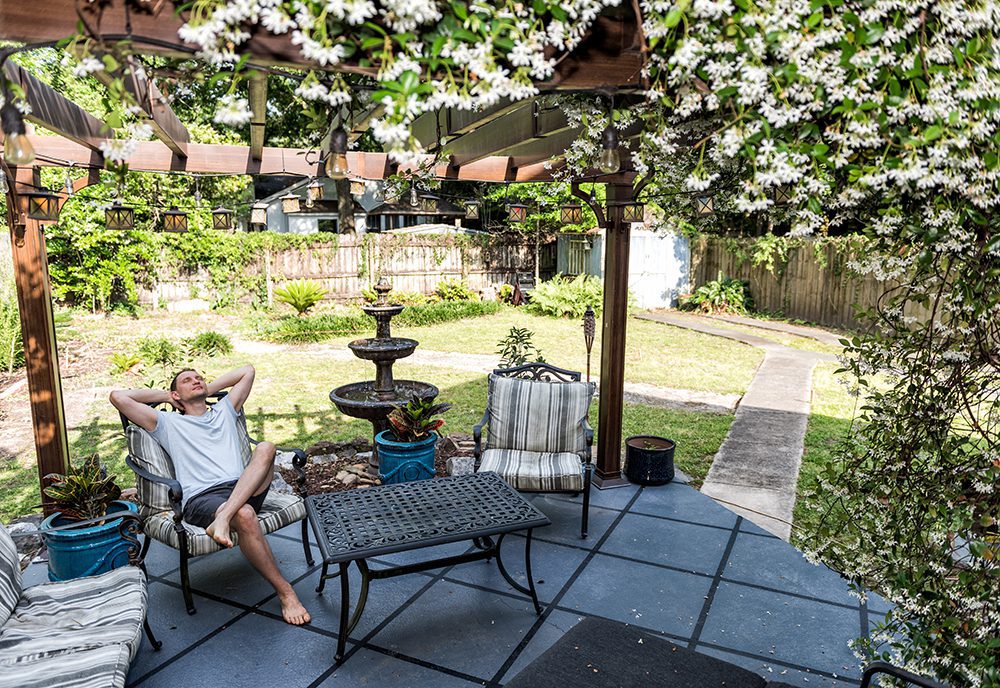 Suppose you are new to homeownership or have never considered a pergola for your current residence. In that case, you might wonder what the benefits are of adding a pergola to your existing space. While pergolas do not provide complete coverage against the elements, they can offer shade options. This shade is particularly welcomed when it accompanies other outdoor features like your deck, patio, and pool. You can also purchase pergola covers to enhance your pergola's design, providing additional protection.
Another great reason to consider a pergola is that vining plants love them! If you want to add romantic appeal and graceful elegance, consider planting something like clematis, climbing roses, hardy kiwi, wisteria, or climbing hydrangea. These vines are large and vigorous and can even form a canopy over your pergola.
Pergolas add a certain entertainment value as well. It's a great central place for people to gather, making it the ideal place to put a patio table and comfortable seating. You'll also be able to make many memories, whether it's just you and your spouse cuddled up in the evening or the whole family over for a party.
How Does the Process Work?
Our design experts will measure and work with your current outdoor space so your pergola can blend in without distracting from the overall look of your home. When considering a renovation to your home, it is always a good idea to have a budget in mind and whether any specific zoning codes will affect your project.
Once our team has this information, we will offer the best options so you can decide immediately on your pergola design, such as the color and size of your new pergola. Then, our dedicated installation crew will come to your home and install your new pergola promptly and professionally so you can start enjoying time with family and friends in your new outdoor space.
Ready to Create a Pergola Design for Your Backyard or Patio?
When you want to add a touch of elegance and eye-catching uniqueness, choosing pergola designs from Elite Outdoor Expressions is the way to go. You'll enjoy the many benefits of a pergola, such as a dedicated area for eating, some protection from the elements, and a sturdy structure on which vining plants can climb.
Elite Outdoor Expressions has a dedicated staff available to answer all of your questions about pergolas and can offer suggestions as to what size and pergola design is best for your space.
Contact us today and let us help you amplify your outdoor space with a custom-designed pergola to keep your family and friends relaxed and comfortable for years to come.